Our philosophy
We want every co-worker to find fulfillment and self-confidence through working with these children.
We want everybody to be available to everyone else, ready to give his help and his love to anyone who needs him, without discrimination or prejudice.
We want everyone to be able to develop his full potential and his love for the children and for the team at every moment.
We want each one among us to consider his work as sacred.
This way of looking at our work is at the origin of the first activity started by Dr Tulsi, the Center for rehabilitation and awakening of mentally handicapped children, and for all the activities that have followed. This philosophy is also the major principle of DEVA Europe, which brought about its support for DISCC.
About us
Tulsi

Dr Tulsi is a clinical psychologist and psychotherapist. In 1991, he was the first one in Uttar Pradesh to open a center for the rehabilitation of mentally handicapped children, which is his specialty. He is certified by the government as an educator in this field. To confer a legal frame to his work and a structure that is necessary for the financial support of his project, he created DEVA International Society for Child Care (DISCC) of which he is the president. This foundation is approved by the Indian government, which allows him to receive funds from abroad.
Jean-Max Tassel

Jean-Max Tassel, a Jungian psychotherapist, was trained in gestalt and Ericksonian hypnosis in France and California. He is a member of the French Federation of Psychotherapy and Psychoanalysis F.F.2.P and the AETPR (European Association of Psycho-corporal and Relational Therapists). Since 1998, J-M. Tassel works with Dr. Tulsi several months a year in Benares where he consults with him. He is president and founder of the association DEVA Europe.
Jacques Vigne

Dr Jacques Vigne was educated as a psychiatrist in Paris. He then left for India, having received the Romain Rolland research scholarship, allocated to three or four researchers every year for research subjects which will enable a better understanding between India and France. His work was also financed by la Maison des Sciences de l'Homme. He has been living for ten years in India, where he writes and also undergoes traditional training in Yoga and Vedanta. His books have been translated or are being translated into several languages and are becoming classics in the subject of psychology and transpersonal psychotherapy. He was the first person to support and help Dr Tulsi when he opened his center for mentally handicapped children as he got together his family and friends in an association which DEVA Europe has followed up on, the Association for Children in Varanasi. See his Internet site.
Jean-Pierre et Gil Canal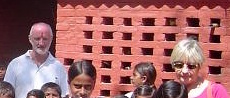 Dr Jean-Pierre Canal worked for 40 years for children, first as an intern, then as a head physician at the CHU clinic in Besançon, and then as the head pediatrician at the CHU in Dole. His wide, Gil, who is a professional nurse has been of great help to him in his consulting work in the city. They have come several times to see our activities in Varanasi, which they have continued to support. They have also accepted to represent DEVA in Dole.

Marianne Casari et Xavier Bihr

Dr Xavier Bihr and Dr Marianne Casari practice liberal homeopathic medicine in Nice. Xavier is also a teacher of homeopathy at the Société Médicale de Biothérapie. Marianne is coordonating doctor of the Association des Paralysés de France, Alpes Maritimes, and professor of Yoga FFHY. Both of them are coordonating doctors of Samsah Trisomie 21, Alpes Maritime, and members of Homeopaths without Borders, France. Since 2004, they have carried out various humanitarian missions for care and teaching together: in Senegal, Cambodia, Nepal, Laos and India. Their encounter with DEVA during a voyage in India with Jacques Vigne in 2007 gave rise to their desire to participate in the work of the association through their own competence and experience. They are the representatives of DEVA-Europe in Nice.
Sources of our financing
DISCC is an Indian organization, created and run by Dr Tulsi with an entirely Indian team. The financial resources of DISCC originate mostly from Europe and the United States.
DISCC receives funds from national and international organizations, as well as from people who come here to find out about our center and our projects.

DISCC also receives income from donors who stay at Panchakot House.
We hope you will become donors, if you are not already, which will allow you, under certain conditions, to stay at our entirely renovated apartment and enjoy an exceptional experience in Varanasi. Overlooking the Ganges in the center of Varanasi, you will be enchanted by the view from our ten windows in what was once the palace on Panchakot Ghat of the Maharajah and his family.
We invite all those who wish to discover Varanasi differently to come and visit our projects, and, if they so wish, to come and stay at Panchakot Ghat. Wherever you choose your accommodations, we recommend that you contact us by e-mail or by telephone of the dates for your visit so that we can arrange airport pick-up.
Another of our sources of revenue is the sale of objects made by the children of DISCC.
As part of our programs, the children make greeting cards, candles, bookmarks. Also the young girls who are learning to sew make bags and sheets. All these products are sold during expositions which we organize at the time of the festivals that occur regularly throughout the year. These events also serve to get the media and the public to know about their work and their talents. It is important for us to make the press and the public aware of our activities.
Finally, any form of financial and moral support is of great importance to us in order to maintain and develop our projects.
We appreciate your comments or any ideas or suggestions you might have concerning DISCC. You can contact us at our address in Varanasi.
Documents administratifs
Links to official documents of our association.